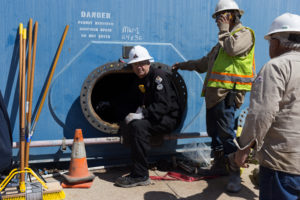 Tank Entry Supervisors, Inc. has been formed by the best of the best Tank Entry Supervisors in the industry. Its founder's primary goal is to provide qualified and certified Tank Entry Supervisors during all phased of AST projects. Our services provide the safest working environment for above ground storage tank projects, this goal is accomplished by having the most experienced, knowledgeable, qualified and certified professional staff.
We at T.E.S believe that every individual in or around above ground storage tanks has the right per OSHA standards, IQCIA, NFPA, API, and the DOT which all have rules, regulations, guidelines and practices that constitute and employers responsibility and the right to life.
T.E.S has over 75 years of experience in confined space tanks, technical and rescue services.
"If you want the BEST, call T.E.S!"